2022/2023
President: Minou Du Bois
Secretary: Emkje van Zuijlekom
Treasurer: Noa de Blaeij
Activities & Marketing: Sophie Kronenburg
External & Vice-President: Tristan Dieles
Education & Career: Bob Schrijver
From left to right: Bob Schrijver, Sophie Kronenburg, Emkje van Zuijlekom, Minou Du Bois, Noa De Blaeij and Tristan Dieles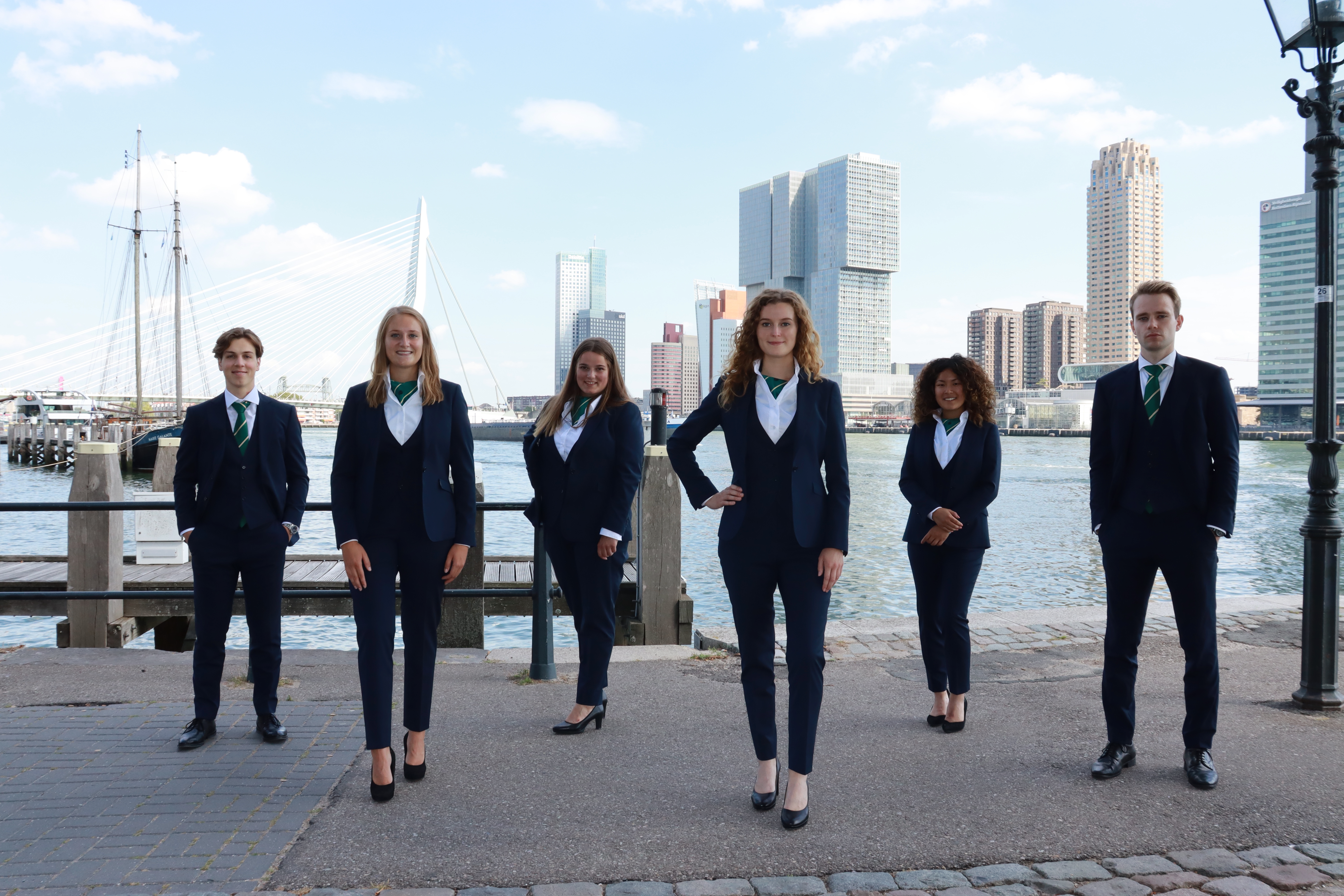 2021/2022
President: Hanz Matthee
Secretary & Vice-President: Tim van Duijn
Treasurer: Auke Fokkema
Activities & Marketing: Jay Otten
External: Job Koning
Education & Career: Kevin Boekholt 
From left to right: Kevin Boekholt, Jay Otten, Tim van Duijn, Hanz Matthee, Auke Fokkema and Job Koning
2020/2021
President: Max Witte
Secretary: Kaching Chan
Treasurer: Job Koning
Activities & Marketing: Jay Otten
External: Esmee Passtoors
Education & Career & Vice-President: Alex Cheung
From left to right: Alex Cheung, Jay Otten, Kaching Chan, Max Witte, Job Koning and Esmee Passtoors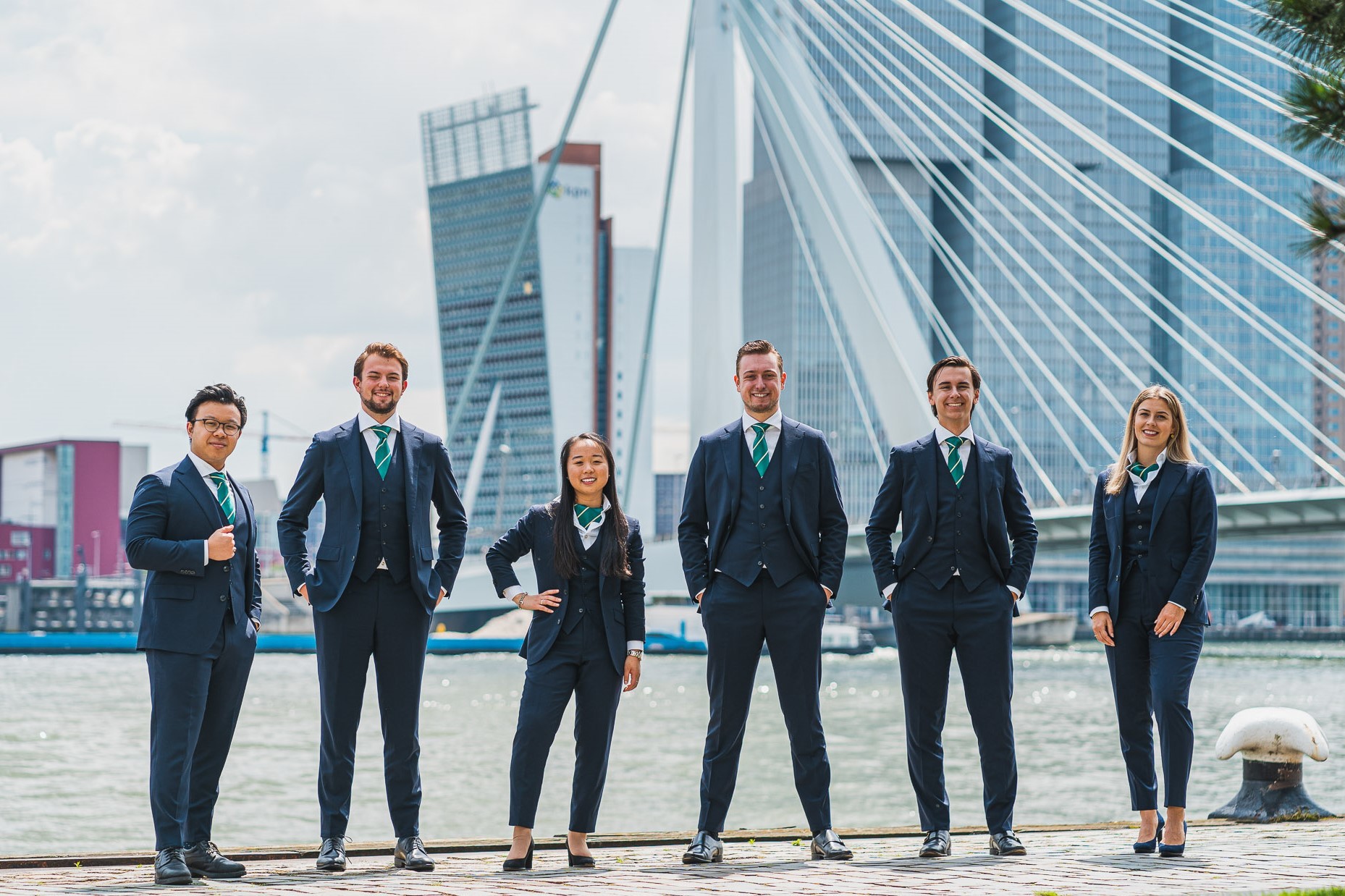 2019/2020
President: Tommy Hu
Secretary & Vice-President: Mathilde de Jonge
Treasurer: Thom Tingen
Activities & Marketing: Lucas Houben
External: Tim Bakkeren
Career & Education: Alain Faddegon
From left to right: Alain Faddegon, Lucas Houben, Mathilde de Jonge, Tommy Hu, Thom Tingen and Tim Bakkeren
2018/2019
President: Pim Somerwil
Secretary: Martine Witsiers
Treasurer: Demi Verloop
Activities & Marketing: Lennon van Laar
External: Cas Snijders
Career & Education & Vice-President: Adnaan W.
From left to right: Adnaan Willson, Demi Verloop, Martine Witsiers, Pim Somerwil, Lennon van Laar and Cas Snijders
2017/2018
President: Sophie Steijns
Secretary & Vice-President: Sander Sedee
Treasurer: Ahmed Mustafa
Activities & Marketing: Abe Scholten
External: Julian Neijzen
Career & Education: Paul Hendriks
From left to right: Abe Scholten, Paul Hendriks, Julian Neijzen, Sophie Steijns, Sander Sedee and Ahmed Mustafa
2016/2017
President: Vidar van Essen
Secretary: Martijn de Kok
Treasurer: Jasper Thomas
Activities & Marketing: Daan Zonneveld
External: Ruben Jakobs
Career & Education: Mees Heeringa
From left to right: Jasper Thomas, Mees Heeringa, Vidar van Essen, Ruben Jakobs, Martijn de Kok and Daan Zonneveld 
2015/2016
President: Eckhart Vlaming
Secretary: Robert Kaptein
Treasurer: Robert Oosterloo
Activities: Sebastiaan Visser
External: Joris Jan de Vlieger
Marketing: Constantijn Kusters
From left to right: Robert Oosterloo, Eckhart Vlaming, Robert Kaptein, Sebastiaan Visser, Constantijn Kusters and Joris Jan de Vlieger
Historical
Please take note of the following: the list has to be taken with caution, it is not entirely complete and the list was put together through the years. This list therefore contains only the board members of the society B&R and not Beurs, as they existed separately before the merger in the early 90s. If you notice any factual errors or have additions to this list, we would love to hear from you: secretary@bnrbeurs.nl.
Board 2014/2015
President: Pim van der Wal
Secretary: Ruben Boutens
Treasurer: Sebastiaan Quint
Activities: Kseniya van der Zwaan
External: Jasvant Jadoenathmisier
Marketing: Guadalupe Rios Garcia
Board 2013/2014
President: Dennis Hilkens
Secretary: Bas Scholten
Treasurer: Daniel Göttman
External: Thomas Bel
ICT and Marketing: Jetze Schuurmans
Activities: Tom van Noort
Board 2012/2013
President: Joris Kleyheeg
Secretary: Denise Kroon
Treasurer: Korrein Volders
External: Christiaan van Driel
ICT and Marketing: Charles-Antoine Bory
Activities: Jaap van Liere
Board 2011/2012
President: Thomas van Zoggel
Secretary: Herman van der Heden
Treasurer: Wilco Beukhof
Activities: Johan van Eck
Board 2010/2011
President: Maarten Bellaard
Secretary: Aad Polak
Treasurer: Arnout van der Houwen
External: Philip van Buuren
Activities: Christian de Groot
Board 2009/2010
President: Dennis Mohnen
Secretary: Maarten van Benthem
Treasurer: Christiaan Tersteeg
External: Daniel Gaspersz
Activities: Wouter van Rooijen
Board 2008/2009
President: Jurjen Stoorvogel
Secretary: Amanda van Haaster
Treasurer: Roland Biemond
Activities: Meng Li
Board 2007/2008
President: Arja Vermazen (stepped-down)
Vice-President: James Looman
Secretary: Ewout van der Meer
Treasurer: Luc Gerretsen
Activities: Bart Severijns
Board 2006/2007
President: Edward de Stigter
Secretary: Rogier de Haan
Treasurer: Alexander Trucksaess
External: Dennis Fraaije
Internal: Benjamin Ries
Board 2005/2006
President: Rutger van der Voort
Secretary: Marco Regeer
Treasurer: Edward de Stigter
Internal: Piet-Hein Eijssen
International Relations: Bjorn Meyer
Board 2004/2005
President: Rolf Weijts
Vice-President: Alexandra Tobi
Secretary: Marc Ham
Treasurer: Onno Niemantsverdriet
Board 2003/2004
President: Warrick Stark
Vice-President: Arnoud Draisma
Secretary: Wouter Jonker
Treasurer: Maarten Hoek
Board 2002/2003
President: Eric Monchen
Vice-President: Martijn Phaff
Secretary: Marcel van den Berg
Treasurer: Erik Miedema
Activities: Arnoud Draisma
Board 2001/2002
President: Jasper Jansen
Vice-President: Selwyn Moons
Secretary: Vianney Heeren
Treasurer: Henk Ydo
Activities: Brecht Wilke
Investment groups Coordinator: Marcel van den Berg
Board 2000/2001
President: Joep Westgeest
Vice-President: Ronald Cornelisse
Secretary: Martijn Hesselink
Treasurer: Lizanne Warning
Activities: Michiel van Duuren
Fundgroup Coordinator: Bas Kortenbach
Board 1999/2000
President: Pim Halkes
Vice-President: Willem van den Berg
Secretary: Judith Wicherson
Treasurer: Matthijs van Dam
Activities: Matthijs van Schie
Fundgroup Coordinator: Andries Hogenbirk
Board 1998/1999
President: Sebastiaan de Bont
Vice-President: Gerben Bos
Secretary: Jonathan Rood
Treasurer: Floris van den Berg, Matthijs van Dam
Activities: Erwin Devilee, Matthijs van Schie
Fundgroup Coordinator: Andreas van Dongen, Andries Hogenbirk
Board 1997/1998
President: Harmen Breedeveld
Vice-President: Herman van der Sluis
Secretary: Christiaan Melissen
Treasurer: Arno Vissers (till 03-04-98), Floris van den Berg (starting 03-04-98)
Activities: Sai Kit Lam (till 03-04-98), Erwin Devilee (starting 03-04-98)
Fundgroup Coordinator: Washant van Dam
Board 1996/1997 (starting 10-30-96)
President: Ivo Raschl
Vice-President: Etienne Boeziek
Secretary: Geert van Mook
Treasurer: Arno Vissers
Activities: Sai Kit Lam
Fundgroup Coordinator: Roland Venekamp
Board 1996 (till 06-20-96)
President: Erwin van Zuidam
Vice-President: Gerbrand Vroegop
Secretary: Igna van Dijk
Treasurer: Rob Mossel
Activities: Sai Kit Lam
Fundgroup Coordinator: Edwin Kerkhof
Board 1995/1996 (till 06-20-96)
President: Jan-Hein Loves
Vice-President: Erwin van Zuidam
Secretary: Igna van Dijk
Treasurer: Rob Mossel
Activities: Gerbrand Vroegop
Fundgroup Coordinator: Edwin Kerkhof
Acquisition: Evert Jan van de Graaf
Board 1994/1995 (starting 26-10-1994)
President: Bart Snel
Vice-President: Han van der Boon
Secretary: Sander van der Horst
Treasurer: Ron Moelikker
Activities: Arno Zegerman
Fundgroup Coordinator: Hans Posthumus
Board 1994 (starting 19-05-1994)
President: Bart Snel
Vice-President: Frans Berends
Secretary: Sander Bressers
Treasurer: Han van der Boon
Activities: Jeannette Hoogendoorn
Fundgroup Coordinator: Hans Posthumus
Board 1993/1994 (starting 03-10-1993)
President: Kees van Kalveen
Vice-President: Frans Berends
Secretary: Sander Bressers
Treasurer: Bart Snel
Activities: Jeannette Hoogendoorn
Fundgroup Coordinator: Mark Breedveld
Board 1993 (starting 18-05-1993)
President: Kees van Kalveen
Vice-President: Frans Berends
Secretary: Wouter van Gelderen
Treasurer: Johan Luijt
Education: Henk Jan van Zoelen
Fundgroup Coordinator: Mark Breedveld
Board 1992/1993 (starting 20-10-1992)
President: Bart Vemer
Vice-President: Norbert Baars
Secretary: Guido Rooijackers
Treasurer: Johan Luijt
Education: Henk Jan van Zoelen
Fundgroup Coordinator: Peter van der Vijgh
Board 1992 (starting 12-05-1992)
President: Bart Vemer
Vice-President: Norbert Baars
Secretary: Guido Rooijackers
Treasurer: Frank Overmars
Education: Henk Jan van Zoelen
Fundgroup Coordinator: Peter van der Vijgh
Board 1991/1992 (starting 26-10-1991)
President: Jack Goossens
Vice-President: Norbert Baars
Secretary: Patrick Dölle
Treasurer: Frank Overmars
Education: Remco Spaa
Fundgroup Coordinator: Bart Vemer
Chief Editor: Gijsbert Quak
Board 1991 (starting 07-05-1991)
President: Jack Goossens
Vice-President: Raymond Keereweer
Secretary: Patrick Dölle
Treasurer: Wim Marijn Lammers
Education: Karin Lieshout
Fundgroup Coordinatorr: Norbert Baars
Chief Editor: Gijsbert Quak
Board 1990/1991  (starting 16-10-1990)
President: Hans Kempen
Vice-President: Ralph van der Vlugt
Secretary: Patrick Dölle
Treasurer: Wim Marijn Lammers
Fundgroup Coordinator: Nico Bults
Education: Karin Lieshout
Chief Editor: Gijsbert Quak
Board 1990  (starting 07-08-1990)
President: Leendert Meijers
Vice-President: Hans Kempen
Secretary: Patrick Dölle
Treasurer: Wim Marijn Lammers
Fundgroup Coordinator: Ralph van der Vlugt
Education: Harold Motz
Chief Editor: Gijsbert Quak
Board 1989/1990  (starting 14-10-1989)
President: Leendert Meijers
Vice-President: Hans Kempen
Treasurer/Secretary: Marianne van der Linden
Fundgroup Coordinator: Ralph van der Vlugt
Education: Harold Motz
Chief Editor: Hendrik Spee
Board 1989 (starting 11-07-1989, the preceding
Board resigned.)
President: Leendert Meijers
Vice-President: Peter Paul de Vries
Treasurer/Secretary: Marianne van der Linden
Fundgroup Coordinator: Hans Kempen
Education: Harold Motz
Chief Editor: Hendrik Spee
Board 1988/1989 (starting 25-10-1988)
President: Dolf van Dijk
Vice-President: Philip de Klerk
Secretary: Gerard S. Looijen
Treasurer: Cor Schagen
Fundgroup Coordinator: Leonard Kipping
Education: Roland Heijne
Chief Editor: Ramon Willems
Board 1988 (starting 03-05-1988)
President: Jean-Paul Frishert
Vice-President: Hans Diederen
Secretary: Philip de Klerk
Treasurer: Cor Schagen
Fundgroup Coordinator: Dolf van Dijk
Education: Dirk van Dael
Chief Editor: Ramon Willems
Board 1987/1988  (starting 03-10-1987)
President: Sebo Jan Eelkman Rooda
Secretary/Treasurer: Hans Diederen
Fundgroup Coordinator: Jean-Paul Frishert
Education: Dirk van Dael
Chief Editor: Gos-Hein van de Wouw
Board 1987  (starting 01-05-1987)
President: Sebo Jan Eelkman Rooda
Vice-President/PR: Vincent Moolenaar
Secretary/Treasurer: Jan Urlings
Fundgroup Coordinator: Pieter Nota
Board 1986/1987  (starting 04-04-1986)
President: Sebo Jan Eelkman Rooda
Vice-President: Vincent Moolenaar
Secretary/Treasurer: Jan Urlings
Public Relations: Evert Nooter
Fundgroup Coordinator: Pieter Nota
Board 1985/1986 (B&R was founded at 19-06-1985)
President: Sebo Jan Eelkman Rooda
Vice-President: Vincent Moolenaar
Secretary: Gabriel Hermanus Zwart
Treasurer: André Janson