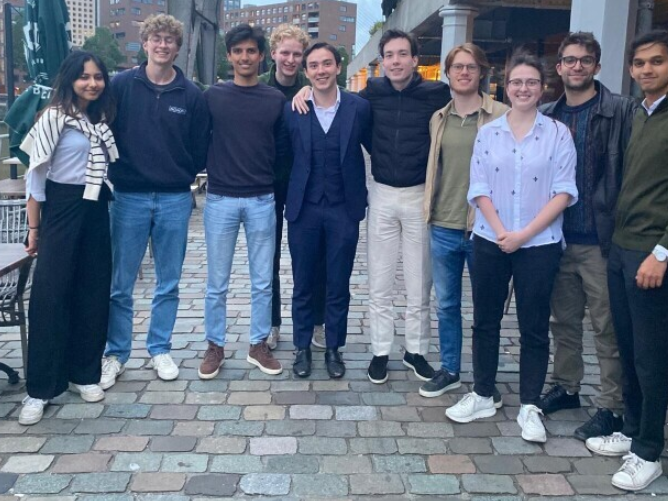 According to research, the number one skill for a successful career is public speaking. In the Academy Committee, you will get the unique opportunity to prepare and present the academy to members of B&R Beurs. You will learn the secret of public speaking, increase your investment knowledge and get the guidance of fellow Academy Committee members.
To apply for the Academy committee, you do not need previous experience. However, we do recommend that you have some basic financial knowledge that we can build upon for you to present the Academies. 
HOW THE YEAR LOOKS LIKE:
During your time at the Academy Committee, you will become part of two of the six tracks from our B&R Beurs Academies. Over the year, you should spend at least 2h to 4h increasing your knowledge in these areas by e.g. reading books, following online courses or having conversations with more experienced track leaders. 
Every track will give two to three presentations per year to B&R Beurs members that are interested in Finance & Investing. Preparing and presenting the Academies takes about 9 hours. This time is spread over two weeks. The week before the Academy you will spend around 4 hours researching content and preparing the slides. The week of the Academy you will put the final touches on your presentation (2h) and then give the Academy itself (2h). Finally, you will revise the track article, which takes about 1 hour. 
At the end of the year, B&R Beurs members can also take the Investor Exam. You will help prepare this exam by writing questions related to the content taught in the Academies. These questions are evaluated by our partner CAIA, which is worldwide a well-known educator of Alternative Investments.
WHAT WE PROVIDE:
The environment to learn more about Finance & Investing in a more hands-on way. No other committee in B&R Beurs provides such a broad learning opportunity. 
Small social events, such as drinks and dinners, to connect you to fellow Academy Committee members. 
Access to online resources, including e-books and online courses. 
Workshops on public speaking.
Mentoring from more experienced members to help you master a specific financial topic. 
Active member days, where you get to meet all the other committee members of B&R Beurs. 
PRACTICAL DETAILS: 
Workload: 4-5 hours per week during period in which your track is taught.
Period: Late November 2022 onwards.
Do you have any questions? Join us for the committee interest drinks or send an email to career@bnrbeurs.nl.
Members
Aaron Popa

Hidde Hogenhout

Cheng, Ting Hei

Nils Kian Schmitz

Lenarts, Philip

Richard Kneen

Stefan van Diepen

Todor Valev

Wouter Moers

Shivyaa Shrivastav

Sanjay Vonk

Nikita Prokhorets

Maurits Van der Kroft

Arseniy Sushko

Gideon Jaape

Lucas Inoi

Raman Kaur

Ricardo Kruiswijk

Miron, Vlad Ioan